Slim Decorative Wide LED Profile for 15mm Phillips Hue LED Strip - Aluminium LED Channel c/w Clip-in Diffuser + End Caps
10% DISCOUNT FOR APPROVED TRADE ACCOUNTS - REGISTERED CONTRACTORS ONLY
FREE LIGHTING DESIGN SERVICE IN 48 HOURS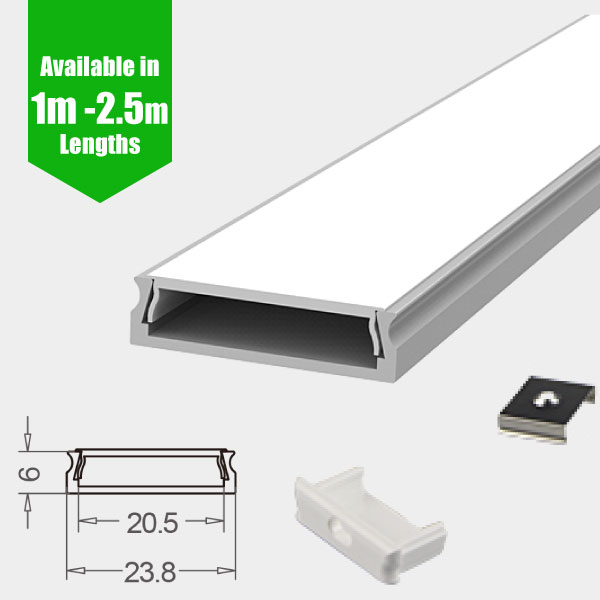 FREE Lighting Design Service within 48 hours
Commercial & Industrial Projects Only - Send us your dimensions or drawings and we'll provide a FREE lighting design!
LED Profile Slim Decorative Wide - Surface Mount - Aluminium LED Channel c/w Clip-in Diffuser + End Caps + Mounting Clips.
For surface mounting LED Strip Light installations to surfaces. Ideal for a wider strip such as the Philips Hue which is 15mm in width. Manufactured from extruded aluminium, supplied with clip in diffuser for a smooth light output and end caps for an enclosed, high standard finish. Primarily used for added protection (suitable for internal & external use), or for presentation, finished in a high end 6063 silver anodised finish as well as diffusing LED for subtle light output.
(23.8mm x 6mm) for 20mm insert.
NOW AVAILABLE IN 13 STANDARD RAL POWDER COATED COLOURS. Looking to match your LED Aluminium profile with the aesthetic of your project. Well now you can with powder coating on request. With 13 standard colours, and thousands more on request, we can now match your requirements. Contact us by email for a quotation & to discuss your discuss your requirements. MOQ Applies.

Please follow the below link to the powder coating add on
POWDER COATING
Please note - whilst this product fits LED tapes such as Philips Hue, due to the very low number or LED's per m used on such you may get a spotting/dotting effect of seeing the individual LEDS. For a smooth consistent light output please see link below to our 240leds per m tapes with reduced/no spotting
SUPPLIED WITH 1 PAIR OF END CAPS & 1 PAIR OF MOUNTING CLIPS PER LENGTH, IF YOU REQUIRE ADDITIONAL AS WE DO NOT KNOW HOW YOU ARE INSTALLING YOUR PROFILE, PLEASE ADD ON EXTRAS ABOVE. WE CANNOT BE HELD RESPONSIBLE FOR MISCALCULATIONS AND DELIVERY CHARGES FOR ADDITIONAL ORDERS FOR EXTRAS AT A LATER DATE