LED Profile - SLIM / Aluminium Profile for LED Strip series - 1m/2m/2.5m length c/w LED Strip Diffuser
TRADE ACCOUNTS FOR REGISTERED ELECTRICIANS
FREE LIGHTING DESIGN SERVICE IN 48 HOURS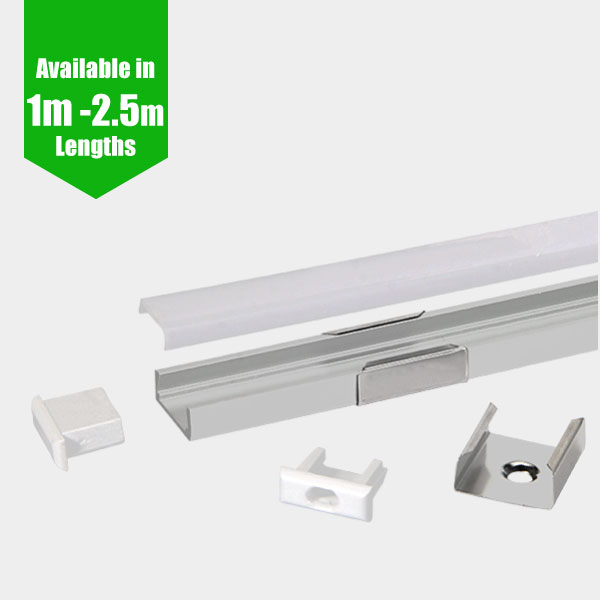 FREE Lighting Design Service within 48 hours
Commercial & Industrial Projects Only - Send us your dimensions or drawings and we'll provide a FREE lighting design!
SLIM Aluminium LED profile for housing flexible LED strip series - choose from 1m/2m/2.5m length. Manufactured from extruded aluminium channel, supplied with SLIDE IN Frosted diffuser for a smooth light output and end caps for an enclosed, high standard finish. Primarily used employed for added protection (suitable for internal & external use), or for presenting LED lighting to a high standard, especially when installation remains visible in both domestic and commercial applications. Further benefits include increased rear heat sink for LED strips, improved LED lifetimes. LED profile is available in lengths up to 2.5m. LED profile can easily be mounted to any square surface in any length. Easy to cut or extend with further lengths, as well as supporting mitre cuts enable cornering. Stock finish is 6063 silver anodised aluminium. Supplied with end caps and mounting clips. 15mm x 6mm - suitable for 11mm wide insert.
NOW AVAILABLE IN 13 STANDARD RAL POWDER COATED COLOURS. Looking to match your LED Aluminium profile with the aesthetic of your project. Well now you can with powder coating on request. With 13 standard colours, and thousands more on request, we can now match your requirements. Contact us by email for a quotation & to discuss your requirements. MOQ Applies.

Please follow the below link to the powder coating add on:
POWDER COATING

SUPPLIED WITH 1 PAIR OF END CAPS AND 1 PAIR OF MOUNTING CLIPS PER LENGTH, IF YOU REQUIRE ADDITIONAL AS WE DO NOT KNOW HOW YOU ARE INSTALLING YOUR PROFILE, PLEASE ADD ON EXTRAS ABOVE. WE CANNOT BE HELD RESPONSIBLE FOR MISCALCULATIONSv AND DELIVERY CHARGES FOR ADDITIONAL ORDERS FOR EXTRAS AT A LATER DATE